Artemis Bio-Solutions' product line was developed for our national security at Sandia National Laboratories.
Artemis Bio-Solutions for Healthcare – We can help address the new challenges in containing and managing infection control with our EPA and FDA registered products. There is a variety of delivery methods with easy to use equipment from foam, spray, fog or soaking. Our products can be incorporated to current infection control practices from patient care, surgical, sterile processing, maintenance, and housekeeping. We can also refer Global Biorisk Advisory Council (GBAC) certified partners if staffing is needed to perform these important tasks or offer GBAC training and certification for your facility.
INFECTION CONTROL AND RISK MANAGEMENT

In real world applications, SARS-CoV-2 does not exist alone. When airborne, SARS-CoV-2 is almost always surrounded by and protected by bodily fluids (e.g., saliva, nasal mucous, etc.) which makes it very persistent in the environment. When it lands on a surface, the situation is even worse because SARS-CoV-2 is also protected by organic material and soil on those surfaces making it even more persistent. In addition, the genetic material in the SARS-CoV-2 virus is surrounded by a lipid envelope (i.e., an oily material).
Other disinfectants are repelled or inactivated by the bodily fluids, soil/organic material, and lipid envelope surrounding SARS-CoV-2 and never actually come in contact with the virus so it survives. Many of these other disinfectants pass laboratory tests against viruses in artificial conditions but fail in real-world applications. For example, 10% chlorine bleach achieves high efficacy against pathogens in laboratory tests but often fails in the field because it does not penetrate organic matter.
SPECTRUM OF CONTROL PRODUCTS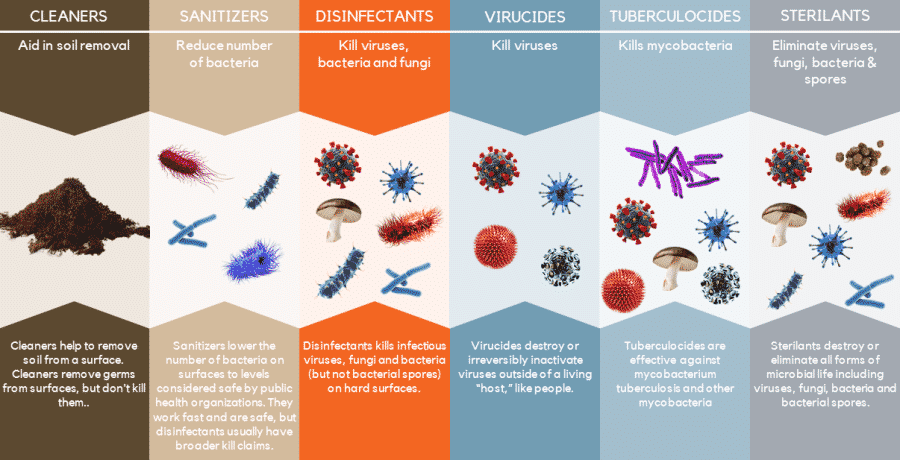 FOUR STEPS TO CREATING A HEALTHY ENVIRONMENT
Conduct Your Site Assessment
Select Your Antimicrobial
Design Your Delivery System
Execute Your Plan
Artemis Bio Solutions can streamline medical facilities infection control prevention measures in 4 steps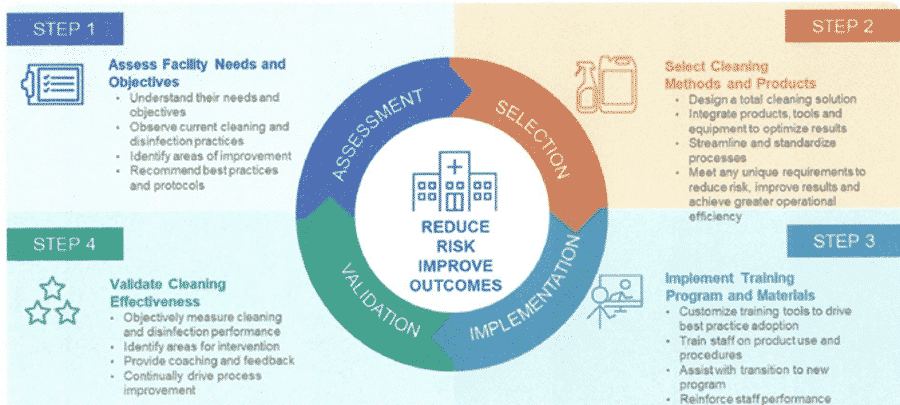 EACH AREA OF THE PROPERTY REQUIRES MULTIPLE DELIVERY METHODS

For more information, please download the Healthcare Disinfection Guide.